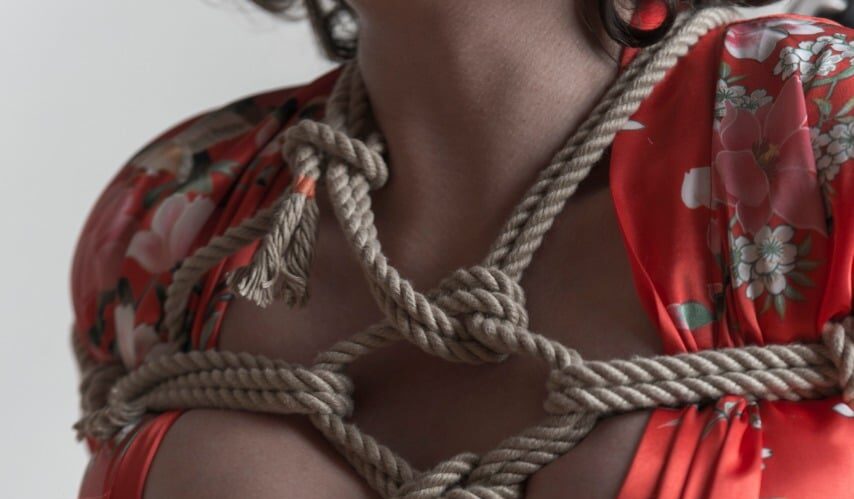 "No posing, pain, costumes, leather, suffering, subs, bottoms, tops or riggers. Just people looking to learn about themselves, and build better relationships and trust with other people. Shibari is for everyone."
Shibari Academy is the leading online Shibari school with over 100,000 students, 5 courses and over 140+ video tutorials that will guide you from the very basics of Shibari all the way to advanced ties. Its video lessons are recorded from a first-person perspective where the camera is between the person tying and the person being tied, making them super easy to follow and to understand. The courses are taught in order of progressive difficulty, so you never feel out of your depth. The best part of all is that once you enroll you get LIFETIME ACCESS to all their courses and future updates, so you can learn at your own pace and go back to previous lessons to refresh your memory.
We had the opportunity to interview Eve, Shibari Academy's creator, instructor, and model.
Several years ago, a friend of mine organized a get-together on a Friday night to teach us how to tie single-column ties. My friends and I had so much fun we made Shibari Fridays a regular thing where we would invite people to tie and learn how to tie. When I met my partner, I wanted to teach them Shibari in a more organized way, so we went to workshops, bought books, and took several online courses.
To my surprise, the was no resource that would guide us from knowing absolutely nothing about Shibari to becoming a Shibari expert. All the material out there was very visually impactful and the way people dressed and looked was far from my experience at home.
When you first approach Shibari, everything around riggers, tops, bottoms, and rope bunnies is intimidating. For most riggers out there, Shibari is a lifestyle that is associated with tons of other things that are not Shibari like leather, tatoos, piercings, and sex. I want to make clear we have nothing against that, but it just isn't what Shibari is about.
It is about building trust and relationships.
We created Shibari Academy first as a resource for us. Then we decided to share. Share the joy and connection we found with Shibari.
We spent over an entire year recording hundreds of video lessons that were easy to follow and non-threatening. We chose ties that were not very dangerous or risky to make it accessible for everyone. We then published our video tutorials and to date have helped over 100,000 students learn Shibari at Shibari Academy.com.
The most difficult part of our Shibari journey was finding the basics in an organized and easy to follow fashion like choosing rope, safety, basic knots, and so on. So the first the we did was make our Shibari 101 course completely free for everyone. So if you are trying to learn Shibari, the first thing you should do is go to Shibari Academy.com and enroll in our free Shibari 101 course.
What makes Shibari Academy's courses unique?
There are three flavors of Shibari education resources out there:
1 – You can buy a book and follow it.
However the material is limited, cannot be updated and can be hard to follow. That said, you can have it at home and use it whenever you want.
2 – You can get a subscription to a website of which there are several options.
These are great because they have a lot of material. That said they are difficult to navigate, disorganized, not sequential, hard to follow because they tend to be recorded from far away and worst of all, as soon as you stop paying you lose access
3 – Third is a workshop that gives you a first person experience but can be very expensive and you cannot really take with you to use in the future.
Shibari Academy is unique because takes the best of all these worlds:
– It is like a book because since we offer lifetime access to all courses and future updates so you can always go back to it and learn at your own pace
– It is also like an online subscription website because we have a ton of material that is easily searchable and updated continuously
– It is also like a physical workshop because it is recorded in first person which will make you feel like you are doing it yourself.
But most of all we are unique because we focus on making Shibari easy, accessible, and inclusive for all.
What experience level does Shibari Academy cater to?
Shibari Academy is catered to all experience levels but it is especially valuable for beginners because it guides you from the basics all the way to advanced ties.
There seems to be over 50 classes that are offered for absolutely free, is this true?
Our Shibari 101 teaches everything you need to know to start your Shibari journey. This includes the theoretical basics such as safety, considerations for tying and being tied, how to choose rope, etc. It also includes practical basics such as frictions, single and double column ties. By the end of our Shibari 101 course you will have learned the building blocks for all advanced ties. If you are creative enough, you could use what you learn in our Shibari 101 course to create your own ties.
Give us a brief overview of the certificate you can obtain through Shibari Academy?
The certificate includes lifetime access to all 5 courses and future updates.
You will start with a Shibari 101 course. You will then progress to Shibari EASY which introduces you to your first ties and continue to more advanced ties in our Shibari MEDIUM and ADVANCED courses. The last course involves ties that you can use in the bedroom.
Each one of our courses is divided into sections of the body such as leg ties, head ties, and chest ties, so they are easy to search. You can also search our ties in our ties page where you can see pictures of how the finished ties look like.
After completing all 5 courses you will get a certificate of completion with a unique url which you can share with your community
Have fun tying!